How to Repair Work Boots
How to Repair Work Boots
Summary: We cover the 4 most vulnerable points of work boots. And show you how to fix them.
Audience: This post is for people who may be thinking "This is the end. I'm definitely going to have to throw these work boots out."

Don't despair! We are here to save you money! Unless your work boots are totally destroyed, they may still have some life left in them. Read this guide to find out how to extend their life - at least by a few more weeks.
Work Boot Problems
And How to Fix Em'
Below are 4 most common problems you may be facing with your boots. See if you can relate with one of the following problems:

Problem #1
1) Sole Needs to Replaced
The official term for this is "delamination." This sole breakaway has the sole coming apart from the shoe. When the soles come unbonded from the main shoe, you just know something needs to be replaced. 
The sole peels apart from the shoe. The sole peeling apart is the number one complaint people have about their work boots, hiking boots, and sports shoes. 
"Shoe manufacturers don't have a soul!" -Unsatisfied boot owner
🖕 We feel your pain. If you're angry at the company that manufactured your shoe, look up planned obsolescence. And then cry. (We can discuss the evils of the marketplace in the comments below). 👇
Why are work boots so expensive? Because the stitching is paramount. How the sole is stitched on to a shoe is what makes a shoe expensive. This is without a doubt the biggest thing you pay for when buying a boot. 
Good to know: "How do you know a good sole when you see it?" Good-quality soles are sewn, stitched, or nailed in. Bad-quality soles are glued and made of urethane, which just do not have inherent strength. 
We recommend staying away from urethane soles and going with a Vibram sole.
When the bottoms fall off, it's usually a sign of age, wear, water damage, or a poor glue job (usually a combination of all four factors).
To fix loose soles:
1) Look up the manufacturer name of your boot. Find out what soles they use. 
2) Order sole replacement. We recommend Vibram. They're the safe industry standard and have a good reputation in the industry. 
3) Follow the instructions on the kit. The kit you order should have the apoxy (glue), soles (check if you need two or just one), and the other materials needed in order to attach the new sole to the old shoe. 
4) Be sure to use duct tape to hold everything in place. 
How to duct tape a sole to a shoe
Problem #2
2) Front part comes loose
This is the second most often encountered problem.
The front part of the shoe unfurls. When the front part of the sole separates from the boot, we call that a broken "toe box." Even just a minor separation in the toe box can lead to debris getting stuck in there. Then it gets worse and worse as more material gets introduced. The space between the shoe lip and shoe widens,  and soon the shoe is flopping all over the place. 
Softball pitchers ☝ (third picture) get this a lot. The stance they take when they throw an underhanded fastball (below picture)👇 puts massive wear-and-tear on the front of the shoe. 

Softball pitcher - image courtesy of Tuff Toe
Welders, electricians, farmers, and construction workers also put their boots through a lot of abuse. When a steel-toe is not enough, you may need to solidify the toe-cap. Treat this problem with a toe-cap applicant or a shoe cement / sealant. 
For a kick-ass post on this, visit How to Apply Tuff Toe to Work Boots. 
Problem #3
3) Scuffs, Scratches and Deep cuts
When your boots develop cracks, cuts, or scratches it's easy to blame the cat.
But chances are it's your work environment. 
Luckily, small cracks cracks can be glazed over by vinegar and olive oil. For deeper cracks, we recommend superglue.
To fix deep scuffs on a work boot, first use sandpaper to smooth the surface off. Prepare the area to be recolored. Use a leather colorant and conditioner and make multiple pass-troughs, allowing time for the conditioner to settle. 
For deeper cuts use a super glue on the fissures. The super glue should "raise" the cavern. Once the glue has properly dried, smooth the surface out with sandpaper afterwards. This will create a smooth surface. You can then apply the colorant and conditioner on top.
This super glue trick is really handy, especially for boots that have deep cuts. If you're concerned about the aesthetic appearance, go over the super glue treated areas with a polish that matches the color of your boot.  
Problem #4
4) Holes
No, we're not referring to the book "Holes" where the characters dig holes in the desert.
We're talking instead about the holes the desert may create in your boots. 
The way to treat boot holes is by securing the perimeter with an outside material. Instructables did a fabulous post on how to cover boot holes. In this article they were able to show how they glued a piece of leather back onto a work shoe and extended the life of the product. Props to them. 
View the article here. 
Image courtesy of Instructables
All boots have a shelf life. 
"These boots are made for walking"
"This article is made for re-posting"
Don't be shaking in your boots
Get combat ready - visit our military section
Now that they're fixed, learn how to shine your shoes like a soldier
Cowboy boots are sexy; here's how!
Follow @leathercaresupply for more fun
Puss in Boots was my favorite Shrek character 
(Does Google rank the post higher because we used the words "Puss in Boots" in a "DIY Boot repair article")? #randomthoughts
Either way,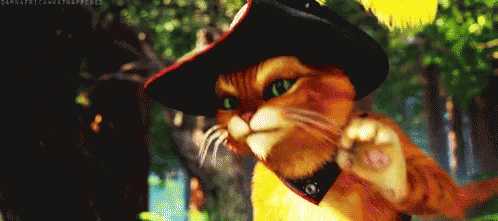 Stay fierce my friends.